GRAND 12 INCHES
(Click here for additional info)

CD1 (The absolute roots of Ben Liebrand)

1 - Donna Summer - I feel love 8:13 (original 12" version)
2 - Giorgio Moroder - Chase 8:24 (original 12" version)
3 - Lipps Inc. - Funky Town 7:46 (original 12" version)
4 - Cerrone - Supernature 10:54 (full length album version)
5 - Patrick Cowley - Menergy 8:47 (original 12" version)
6 - Gino Soccio - Dancer 8:29 (original 12" version)
7 - Sylvester - You make me feel (mighty real) 6:30 (original 12" version)
8 - Gonzalez - Haven't stopped dancing yet 7:59 (original 12" version)
9 - Kat Mandu - The Break 8:40 (original 12" version)

CD2 (The relaxed and groovy tracks)

1 - Yarbrough & Peoples - Don't stop the music 7:35 (original 12" version)
2 - Chic - Good times 8:00 (original 12" version)
3 - Patrice Rushen - Forget me nots 4:42 (original 12" version)
4 - Change - Lover's holiday 6:16 (full length album version)
5 - Oliver Cheatham - Get down saturday night 6:51 (original 12" version)
6 - Kool & the Gang - Fresh 5:50 (12" remix)
7 - Michael Zager Band - Let's all chant 6:50 (original 12" version)
8 - Rick James - Super Freak 7:06 (original 12" version)
9 - Sugarhill Gang - Rappers Delight 14:36 (full length version)
10- Indeep - Last night a DJ saved my life (original 12" version)
11- Indeep - Last night a DJ saved my life (acappella)

CD3 (The funky grooves and more)

1 - D'Train - You're the one for me 7:16 (special dub/vocal edit)
2 - Sharon Redd - Beat the street 7:20 (special dub/vocal edit)
3 - Carol Jiani - Hit 'n run lover 8:14 (original 12" version)
4 - Jacksons - Shake your body (down to the ground) 8:36 (12" remix)
5 - Shannon - Let the music play 5:46 (original 12" version)
6 - Freeez - IOU 8:42 (original 12" version)
7 - Class Action - Weekend 8:25 (original 12" version)
8 - Moses - We just 6:27 (original 12" version)
9 - Donna Summer - I feel love 15:57 (Patrick cowley remix)

CD4 (Recent classics and alternative dance)

1 - Ce Ce Peniston - Finally 7:02 (12"choice mix)
2 - Technotronic - Pump up the Jam 5:21 (Vocal 12" version)
3 - Robin S - Luv 4 Luv 6:05 (original 12" version)
4 - Robin S - Show me love 8:49 (original 12" version)
5 - Snap - Rhythm is a dancer 5:11 (12" mix)
6 - Kristine W - Feel what you want 5:30 (Our Tribe Vocal 12" mix)
7 - 2 Unlimited - Get ready for this 5:54 (original 12" version)
8 - Frankie Goes to Hollywood - Relax 7:24 (original New York 12"mix)
9 - New Order - Blue Monday 7:28 (complete original 12" version)
10 - Yazoo - Situation 9:05 (special dub/vocal edit)
11- Art of Noise - Moments in love


GRAND 12 INCHES 2
(Click here for additional info)

CD 1 (More of my roots and favorites)

1. Telex – Moskow Diskow (English 12" Version) 05:25
2. Harry Thumann – Underwater (12" Version) 06:01
3. Martin Circus - Disco Circus (Full Length Version) 14:02
4. Harold Faltermeyer – Axel F (12" Version) 07:12
5. C.O.D. – In the Bottle (12" Version) 06:03
6. Dazz Band – Let It All Blow 05:51
7. Dan Hartman – Vertigo / Relight My Fire (Full Length Version) 11:59
8. Supermax – Love Machine (12" Version) 08:38
9. American Gypsy – I'm Ok, You're Ok (12" Version) 05:24
10. Telex – Moskow Diskow (French 12"Version) 07:28

CD 2 (the Funky Grooves)

1. Grandmaster Flash – the Message (12" Version) 07:13
2. Blondie – Rapture (Full Length Version) 10:02
3. Chemise – She Can't Love You (12" Version) 05:04
4. Stephanie Mills – Medicine Song (12" Version) 06:20
5. Colonel Abrams – Trapped (12" Version) 06:28
6. T-connection – At Midnight (12"Version) 09:42
7. Latoya Jackson – If You Feel the Funk (12" Version) 05:11
8. Miami Sound Machine – Dr. Beat (12"Version) 06:31
9 . Peter Brown – Love Is Just the Game (12"Version) 07:00
10. the Limit – Say Yeah (Vocal + Dub Version) 10:34

CD 3 (the Most Beautiful Pieces of Dance Music)

1. Sharon Redd – Can You Handle It (Francois K Mix) 08:58
2. David Joseph – You Can't Hide (Your Love From Me) (12"Version) 06:41
3. Sharon Brown – Specialize In Love (12"Version) 07:13
4. Jean Carn – Was That All It Was (12"Version) 06:31
5. Mtume – So You Wanna Be a Star (12"Version) 05:19
6. Hugh Masakela – Don't Go Lose It Baby (12" Version) 07:35
7. Miami Sound Machine – Conga (12"Version) 05:55
8. Manhattan Transfer – Twilight Zone (12"Version) 06:06
9. Donna Summer – Last Dance (Full Length Version) 08:10
10. Santa Esmeralda – Don't Let Me Be Misunderstood (Full Length Version) 16:12

CD 4 (Funk , Pop & Alternative)

1. the Jacksons – Can You Feel It (Live Version) 06:08
2. M – Popmuzik (12" Version) 04:54
3. Paul Hardcastle – 19 (12" Version) 05:14
4. Mdmc – How About It (12" Version) 07:24
5. the Bbq Band – On the Beat (Original 12"Version) 05:55
6. Sunbelt– Spin It (12" Version) 07:38
7. Felix – Don't You Want Me (12" Version) 05:54
8. Yazoo – Don't Go (Vocal + Dub Version) 08:25
9. Sheila E – Glamorous Life 06:34
(Sheila E.)
10. Macho – I'm a Man (Full Length Version) 17:34

GRAND 12 INCHES 3
(Click here for additional info)

CD 1 (More of my roots and favorites)

1 Robert Palmer You're in my System (Extended Album Mix) 06:00
2 André Cymone - The Dance Electric 05:35 (original 12" version)
3 Chas Jankel - Glad To Know You 06:37 (original 12" version)
4 Suzi Lane - Harmony 06:59 (original 12" version)
5 Chaplin Band- Madmen's Discoteque 06:30 (Special Liebrand Edit)
6 Janis Ian-Fly Too High 06:51 (original 12" version)
7 Rah Band - Slide 06:39 (original 12" version)<
8 The Real Thing-Can You Feel The Force 07:39 (original 12" version)
9 Anita Ward - Ring My Bell 08:12 (original 12" version)
10 Boys Town Gang- Cruisin' The Streets 13:14 (original 12" version)<

CD 2 (The funky grooves)

1 Positive Force - We Got The Funk 04:31
2 Lakeside - Fantastic Voyage 06:12 (original 12" version)
3 Cheryl Lynn - Shake It Up Tonight 05:42 (original 12" version)
4 Colonel Abrams - I'm Not Gonne Let You 06:47 (original 12" version)
5 Crown Heights Affair -You Gave Me Love 05:52 (original 12" version)
6 Rose Royce - R.R. Express 12:01 (Full length version)
7 Jerry Knight - Overnight Sensation 06:30 (original 12" version)
8 M.F.S.B.- Love Is The Message 11:33 (Full length version)
9 Edwin Starr - Contact 07:15
10 Earth, Wind & Fire - Boogie Wonderland 08:16 (original 12" version)

CD 3 (More Funky stuff)

1 The Reddings - The Awakening Pt1+2 03:32 (Special Liebrand Edit form Digital Master)
2 Earth,Wind & Fire - fantasy (Blaze shelter dj mix) 08:57
3 Trussel - Love Injection 07:53 (original 12" version)
4 Gene Chandler - get down 08:18 (original 12" version)
5 Billy Ocean - Are You Ready 06:46 (original 12" version)
6 Dynasty - I don't wanna be a freak 07:23 (original 12" version)
7 Herbie Hancock - Tell Everybody 07:50 (original 12" version)
8 Shalamar - Right In The Socket 06:42 (original 12" version)
9 Third World - Now That We've Found Love 08:16
10 The Commodores - Brickhouse (live) 10:26

CD 4 (Alternative + Pop)

1 Imagination - Body Talk 06:00 (original 12" version)
2 Fern Kinney - Groove Me (long version) 08:54
3 One Way ft Al Hudson - You Can Do It 07:03 (original 12" version)
4 David Bowie - Let's Dance 07:39 (original 12" version)
5 Fox The Fox - Precious Little Diamond 07:27 (original Ben Liebrand 12" version)
6 Fun Fun-Happy Station 07:16 (original 12" version)
7 Tavares - Heaven (Irresistable Angel Mix) 08:35
8 Liaison Dangereuses - Los Ninos del Parque 05:01 (original 12" version)
9 Talk Talk-It's a Shame 07:01 (original 12" version)
10 Faithless - Salva Mea (Epic Mix) 11:52



GRAND 12 INCHES 4
(Click here for additional info)

CD 1 (The Funky Grooves)

1 Michael Jackson - BillyJean 6:25 (original 12" version)
2 War - Galaxy 8:11
3 A Taste Of Honey - Boogie Oogie Oogie 5:34 (original 12" version)
4 Heatwave - Grooveline 7:29 (original 12" version)
5 Chic - Le Freak 5:33 (original 12" version)
6 Jimmy BoHorne - Spank 6:59 (original 12" version)
7 Peter Brown - They Only Come Out At Night 6:24 (original 12" version)
8 Sister Sledge - He's The Greatest Dancer 6:05 (original 12" version)
9 Billy Ocean - Stay The Night 6:15 (original 12" version)
10 Farley Jackmaster Funk - Love Can't Turn Around Suite 17:14 (Special Ben Liebrand Edit)

CD 2 (From relaxed to energetic)

1 Grace Jones - La vie en rose 7:28 (original 12" version)
2 Change - You Are My Melody 6:24 (original 12" version)
3 World Premiere - Share The Night 7:26 (original 12" version)
4 BB&Q Band - Genie 6:00 (original 12" version)
5 Aretha Franklin - Who Zoomin Who 8:36 (original 12" version)
6 Deodato - Fire in thge sky 6:48 (original 12" version)
7 Peter Jacques Band - Going dancing down the steet 5:51 (original 12" version)
8 Earth, Wind & Fire - System Of Survival 7:41 (original 12" version)
9 Jacksons - Walk Right Now 7:39 (original 12" version)
10 The 3 Degrees - The Runner 7:40
(rare funky long version)

CD 3 (My Sequencer based roots)

1 Pet Shop Boys - West End Girls (Produced by Bobby Orlando) 7:51 (original 12" version)
2 Bobby "O" - She Has A Way 5:50 (original 12" version)
3 The Mike Theodore Orchestra - High On Mad Mountain 8:14 (Full Length Version)
4 Divine - Native Love (Step By Step) 5:07 (original 12" version)
5 Bobby "O" - ImSoHotForYou 5:11 (original 12" version)
6 Azoto - San Salvador 6:55 (original 12" version)
7 Easy Going - Fear 7:52 (Full Length Album Version)
8 Midway - Set It Out 6:39 (original 12" version)
9 Flirts - Passion 9:02 (original 12" version)
10 Hot.R.S. - House of The Rising Sun 14:40 (Full length version)

CD 4 (Alternative and Pop)

1 Georg Kranz - Trommeltanz (Din Daa Daa) 6:19 (original 12" version)
2 Roy Ayers feat. Ubiquity - Running Away 6:56 (original 12" version)
3 Level 42 - Love Games 7:26 (original 12" version)
4 MaiTai - History 7:19 (original 12" version by Rutger Kroese)
5 Mantronix - Got To Have Your Love 8:24
6 Pointer Sisters - Automatic 6:08 (original 12" version)
7 Quincy Jones - Ai No Corrida (I-No-Ko-ree-da) 6:16 (original 12" version)
8 GQ - Disco Nights 5:15 (original 12" version)
9 Laid Back - White Horse 5:45 (original 12" version)
10 Jam & Spoon-Follow Me 12:29 (original 12" version)
11 George Kranz - Din Daa Daa (Acappella / Dub-Version) 3:06


GRAND 12 INCHES 5
(Click here for additional info)

CD 1 (The Funky Grooves)

1 Michael Jackson - Don't Stop Till You Get Enough 06:06
(original 12" version)
2 Brothers Johnson - Stomp 05:57
(original 12" version)
3 Cameo - Word Up (Extended Version) 05:56
4 Rick James - Glow (Album Mix) 05:42
5 Mary Jane Girls - In My House 05:03
(original 12" version)
6 Sun - Sun Is Here 05:03
(original 12" version)
7 Ashford & Simpson - Solid (Special Club Mix) 06:17
8 the Floaters - Float On 11:47
9 the Chaplin Band - Il Viliero 11:59
(original 12" version)
10 Amii Stewart - Knock On Wood (Liebrand Edit) 06:52

CD 2 (From relaxed to energetic)

1 Lionel Richie - All Night Long 06:20
(original 12" version)
2 Diana Ross -I M Coming Out (Original Chic Mix) 06:00
3 the Rah Band - Clouds Across the Moon 06:49
(original 12" version)
4 Stargard - Which Way Is Up 06:45
(original 12" version)
5 Mcfadden & Whitehead - Ain T No Stopping Us Now 07:02
(original 12" version)
6 Marvin Gaye - Sexual Healing Suite (Liebrand Edit) 09:24
7 Soul Ii Soul - Back To Life (12" Version) 07:39
8 Advance - Take Me To the Top 06:17
(original 12" version)
9 Patrick Juvet - I Love America 13:58
10 Peaches & Herb - Shake Your Groove Thing 05:35
(original 12" version)

CD 3 (Pure Disco)

1 Cerrone - Love In C Minor (Albummix) 16:20
2 Frantique - Strut Your Funky Stuff (Liebrand Edit) 06:15
3 Andy Williams - Love Story (Where Do I Begin) (Long Version) 09:42
(original 12" version)
4 Womack & Womack - Teardrops (Extended Remix) 07:41
5 Jeff Wayne - the Eve of War (Long Version) 07:00
6 Earth Wind & Fire - Thinking of You (12" Version) 07:56
7 Gary's Gang - Keep On Dancin 07:09
(original 12" version)
8 the Three Degrees - the Runner (Long Version).Aif 08:11
9 Jocko - Rhythm Talk 07:14

CD 4 (Alternative, Pop and more)

1 Cock Robin - the Promise You Made (Special Dance Mix) 06:33
2 Time Bandits - Live It Up 07:25
(US special 12" version)
3 Breakfast Club - Right On Track 07:13
(original 12" version)
4 the Quick - the Rhythm of the Jungle 07:18
5 Boney M - Rasputin (Extended Version) 07:32
6 Mai Tai -What Where When Who 07:56
(Rutger Kroese 12" version)
7 John Miles - Slow Down 04:18
8 the Human League - Don't You Want Me 03:57
9 the Human League - Don't You Want Me (Extended Dance Mix) 07:29
10 Automat - Automat (the Rise, Advance & Genus) 16:53

GRAND 12 INCHES 6
(Click here for additional info)

CD 1 (Great Stuff)

1 Frankie Goes To Hollywood - Two Tribes (Annihilation) 9:10
2 Grace Jones - I'm Not Perfect (But I'm Perfect For You) (Ben Liebrand Remix) 6:53
3 Hall & Oates - I Can't Go For That (No Can Do) Extended Version) 6:13
4 Wings - Goodnight Tonight (12" Version) 7:18
5 Propaganda - P Machinery (Polish) 9:22
6 Sparks - Beat the Clock (Extended Version) 6:56
7 Tom Tom Club - Genius of Love (Long Version) 7:28
8 Flash & the Pan - Midnight Man (Extended Version) 6:59
9 Depeche Mode - Just Can't Get Enough (Live Version) 5:42
10 Art of Noise - Beat Box (Diversion One) 8:33

CD 2 (Great and funky stuff)

1 Earth, Wind & Fire - Serpentine Fire (12" Promo Version) 5:01
2 the Jacksons - Blame It On the Boogie (12" Version) 6:57
3 the Three Degrees - Dirty Ol' Man (12" Version) 8:19
4 the Players Association - Turn the Music Up! (12" Version) 6:52
5 Deniece Williams - I've Got the Next Dance (Special Disco Version) 6:23
6 the Whispers - It's a Love Thing (12" Version) 5:10
7 Poussez! - Come On And Do It (Original 12" Version) 9:53
8 Kano - I'm Ready (12" Version) 7:16
9 Philadelphia International Allstars - Let's Clean Up the Ghetto (12" Version) 8:40
10 Harlow - Take Off (12" Version) 10:17

CD 3 (Funky and Soulfull stuff)

1 Shalamar - My Girl Loves Me (Original 12" Remix) 6:52
2 Peter Brown - Do Ya Wanna Get Funky With Me (Full Length Version) 8:46
3 Alisha - Baby Talk (Special Remix By Shep Pettibone) 6:46
4 Vaughn Mason & Crew - Bounce, Rock, Skate, Roll (Part 1) 7:33
5 Loleatta Holloway - Crash Goes Love (12" Blaster Mix) 7:26
6 Joe Smooth - Promised Land (Club Mix) 5:12
7 Cuba Gooding - Happiness Is Just Around the Bend (12" Version) 7:02
8 Nairobi Ft the Awesome Foursome - Funky Soul Makossa (Rap Version) 7:31
9 Poussez! - Never Gonna Say Goodbye (Original 12" Version) 7:53
10 Dimples D - Sucker DJ's (I Will Survive) (Original 1983 12" Version) 5:02
11 Dimples D - Sucker DJ's (Suckapella) (Orginal 1983 Acappella) 3:44

CD 4 (The Stuff that dreams are made of Stuff)

1 Dan Hartman - We Are the Young (Club Version) 6:54
2 Joyce Sims - Come Into My Life (Club Version) 8:22
3 Flash & the Pan - Waiting For a Train (Extended Version) 7:18
4 Miquel Brown - Close To Perfection (12" Version) 8:18
5 Georgio - Bed Rock (Clubmix) 6:11
6 Dolly Dots – Ps (12" Version) 6:53
7 Vin Zee - Funky Bebop (12" Version) 6:52
8 Rebbie Jackson - Centipede (Extended Version) 5:55
9. art of Noise - Close To the Edit (12" Edited Mix) 5:42
10 Frankie Goes To Hollywood - Rage Hard (Young Person's Guide To the 12" Mix) 10:05
GRAND 12 INCHES 7
(Click here for additional info)

CD 1 (Great Stuff)

1 Michael Jackson - Wanna Be Startin' Somethin' (Extended) 6:31
2 Tavares - Heaven Must Be Missing an Angel (12" Version) 6:32
3 Odyssey - Going Back To My Roots (12" Version) 5:26
4 Gary's Gang - Showtime (12" Version) 5:17
5 Carrie Lucas - Dance With You (12" Version) 6:37
6 T-connection - Do What You Wanna Do (Disco Version) 7:12
7 Evelyn "Champagne" King - I'm In Love (12" Version) 5:55
8 Imagination - Just an Illusion (12" Version) 6:27
9 Silver Convention - Fly Robin Fly (12" Promo Version) 7:46
10 Tulio De Piscopo - Stop Bajon (12" Version) 7:14

CD 2

1 S'express - Theme From S'express (Platform 1 Mix) 6:02
2 The Quick - Zulu (U.s. 12" Version) 7:52
3 Grace Jones - I've Seen That Face Before (Libertango) (Maxi-single) 5:40
4 Drum Theatre - Eldorado (Dance Mix) 6:28
5 Herbie Hancock - You Bet Your Love (U.s. 12" Version) 8:11
6 Baby 'O - In the Forest (Extended 12" Version) 6:41
7 Krystol - After the Dance Is Through (Vocal 12" Version) 5:16
8 Candido - Jingo (Original David Rodrigez 12"Mix) 9:53
9 O.r.s. (Orlando Riva Sound) - Moonboots (U.s. Special 12" Disco Mix) 9:34
10 Dan Hartman - Instant Replay (U.s. Tom Moulton 12" Version) 8:15


CD 3

1 The Jacksons - Heartbreak Hotel (Full Length Version) 5:44
2 Gloria Gaynor - I Will Survive (Full Length 12" Mix) 7:58
3 Midnight Star - Operator (Vocal Lp Version) 7:43
4 Thelma Houston - You Used To Hold Me So Tight (12" Version) 5:43
5 Shakatak - Mr Manic And Sister Cool (Cool 12" Mix) 6:13
6 T-connection - Saturday Night (T.k. 12" Version) 6:53
7 Nathalie Cole - This Will Be (Ben Liebrand Original Multi Track Mix) 5:20
8 Leon Haywood - Don't Push It,Don't Force It (12" Version) 5:26
9 Jackie Moore - This Time Baby (Special Disco Version) 7:00
10 Ramsey Lewis - Sun Goddess (Full Length Album Version) 8:30


CD4

1 Earth, Wind & Fire - Let Me Talk (Extended Mix) 6:51
2 Stone - Time (Vocal 12" Version) 7:27
3 First Choice - Double Cross (Special 2" Disco Mix) 7:00
4 Imagination - New Dimension (Electro Mix) 9:26
5 Black Box - Everybody Everybody (12" Version) 5:23
6 Space - Carry On, Turn Me On (12" Version) 8:09
7 Sheila & the Black Devotion - Spacer (Vocal 12" Version) 6:14
8 Instant Funk - I Got My Mind Made Up (Special 12" Disco Mix 9:47
9 Edgar Winter - Above And Beyond (12" Instrumental Version) 6:38
10 Cerrone - I Want Love (Ben Liebrand 12" Remix) 8:03

GRAND 12 INCHES 8
(Click here for additional info)

CD 1

1. Chaka Kahn - I Feel For You (Remix) 7:19
2. Michael Jackson - The Way You Make Me Feel (Dance Extended Mix) 7:53
3. Mary Jane Girls - All Night Long (Album Version) 5:44
4. Earth, Wind & Fire - Let's Groove (Special Remixed Holiday Version) 6:41
5. Donna Summer - On The Radio (Long Version) 7:35
6. Raw Silk - Do It To The Music (Vocal) 6:36
7. Shock - Let Your Body Do The Talkin' (Special 12 Inch Disco Mix) 6:10
8. Shirley Lites - Heat You Up (Melt You Down) (Melt Down Mix) 6:22
9. The Fatback Band - Is This The Future (Album Version) 8:55
10. Sheila E. - A Love Bizarre (Part 1 And Part 2) 12:18

CD 2

1. Patrick Hernandez - Born To Be Alive (12 Inch Mix) 7:26
2. Julius Brown - Party (Vocal) 6:16
3. Aretha Franklin - Jump To It (Extended Version) 6:33
4. Loose Ends - Hanging' On A String (Contemplating) (Extended Dance Mix) 5:57
5. Gwen Guthrie - Padlock (Long Version) 6:54
6. Spence - Get It On (12") 6:58
7. Paul Hardcastle - Rainforest 5:12
8. Sueno Latino - La Puearta Del Sol (Island Mix) 6:55
9. Barbara Mason - Another Man (Vocal) 6:56
10. Frankie Goes To Hollywood - Welcome To The Pleasuredome (Pleasurefix Mix) 9:44
11. Yellow Magic Orchestra - Computer Games (Ben Liebrand Fire Cracker Mix) 6:37

CD 3

1. First Choice - Dr. Love (12") 8:21
2. Rick James - You And I (Disco Version) 8:04
3. Loleatta Holloway - Love Sensation (12") 8:36
4. Richard T. Bear - Sunshine Hotel 6:13
5. Rose Royce - Do Your Dance (Part 1 & Part 2) 9:19
6. Sparque - Let'S Go Dancin' (Club Version) 8:10
7. Taana Gardner - Work That Body (Part 1) 7:30
8. Simplicious Ft. Eugene Wilde - Let Her Feel It (12" Version) (Vocal) 6:18
9. Direct Current - Everybody Here Must Party (12" Vinyl) 5:07
10. Deodato - Also Sprach Zarathustra (Album Version) 9:01

CD 4

1. Marvin Gaye - Got To Give It Up (Part 1 & Part 2) 11:48
2. Dayton - The Sound Of Music (X-Tended Remix) 8:16
3. Cheryl Lynn - Encore (Dance Version) 8:18
4. Teena Marie - Behind The Groove (12" Vinyl) 6:10
5. Stacy Lattisaw - Jump To The Beat (12" Vinyl) 5:21
6. Joe Bataan - Rap-O Clap-O (12" Vinyl) 5:46
7. Risque - Burn It Up (Mr. Dj) (12" Version) 9:50
8. Peter Brown - Crank It Up (Funk Town) (Part 1) 7:59
9. Frankie Smith - Double Dutch Bus (Vocal) 5:14
10. Brothers Johnson - Get The Funk Out Of My Face (Disco Version) 6:01
GRAND 12 INCHES 9
Additional info will be added a.s.a.p.

CD 1

1 Donna Summer - Could It Be Magic (Full Version With Prelude To Love) 06:25
2 Earth Wind & Fire - Getaway (12" Version) 05:11
3 Karen Young - Hot Shot (12" Version) 08:35
4 Bobby Thurston - You Got What It Takes (12" Version) 09:35
5 Grace Jones - Pull Up To the Bumper (Unedited Extended Album Version) 07:14
6 Tina Turner - Goldeneye (Morales Club Mix) 10:03
7 Georgio - Lovers Lane (After Hours Vocal Mix) 06:07
8 Unique - What I Got Is What You Need (Vocal) 06:24
9 Imagination - Music & Lights (Maxi Single) 05:19
10 Salt'N'Pepa - Let's Talk About Sex (Original Recipe Mix - Club) 05:58
11 Godley & Creme - Cry (Extended Remix) 07:28

CD 2

1 William Devaughn - Be Thankful For What You Got (Album Version) 07:03
2 Patrice Rushen - Forget Me Nots (12" Version) 07:22
3 Linda Lewis - Class Style (Groove Mix) 05:47
4 Kebekelektrik - War Dance (Original Version) 08:59
5 Unlimited Touch - I Hear Music In the Streets (Original 12" Mix) 07:00
6 Man Parrish - Hip Hop Be Bop (Don't Stop) (12" Maxi Single) 05:36
7 Skyy - Let's Celebrate (Original 81 Mix) 07:15
8 Charlie Calello Orchestra - Sing Sing Sing (12" Version) 06:03
9 Shannon - Give Me Tonight (Dub Version) 06:04
10 Gary's Gang - Makin' Music (Remix) 17:08


CD 3

1 Bobby Thurston - Check Out the Groove (12" Version) 07:31
2 Destination - Move On Up (Suite) 08:33
3 Geraldine Hunt - Can't Fake That Feeling (Long Version) 05:16
4 Sylvester - Don't Stop (???) 08:30
5 Carol Williams - Love Is You (Original 12" Version) 07:52
6 Silvetti - Spring Rain (Club Mix) 05:52
7 Rod - Shake It Up (Do the Boogaloo) (Special Disco Mix) 07:43
8 Aurra - You And Me Tonight (12" Version) 07:01
9 Firefly - Love Is Gonna Be On Your Side (12" Version) 07:08
10 Meco - Other Galactic Funk (Album Version) 12:31

CD 4

1 The Strikers - Body Music 11:14
2 D'Train - Music (12" Vocal Version) 08:13
3 Don Ray - Got To Have Loving (Full Length Version) 08:20
4 The Bombers - Everybody Get Dancin' (Original 12") 09:31
5 Bruni Pagan - Fantasy (12" Version) 08:21
6 Peech Boys - Don't Make Me Wait (Extended Version) 08:22
7 Man Parrish - Six Simple Synthesizers (Album Version) 05:39
8 Whistle - Just Buggin (Ben Liebrand Remix) 07:31
9 Torch Song - Prepare To Energize (12" Version) 05:33
10 Torch Song - Prepare To Energize (the Fong Test) (8-Track Version) 05:57
GRAND 12 INCHES 10
Additional info will be added a.s.a.p.

CD 1

1 Earth Wind & Fire - Fall In Love With Me (Special Remix Extended Version) - 5:51
2 Chic - Everybody Dance (12" Mix) - 8:24
3 Alexander O'neal - Fake (Extended Version) - 5:21
4 Donna Summer - Hot Stuff (12" Version) - 6:50
5 Gap Band - Oops Upside Your Head (Maxi-Single) - 8:42
6 Melba Moore - You Stepped Into My Life (Special Disco Version) - 7:50
7 Brass Construction - Movin' (Album Version) - 8:39
8 Boney M. - Dancing In The Streets (12" Version) - 6:21
9 Bohannon - Let's Start The Dance (Remix) - 8:04
10 The New York Community Choir - Express Yourself (Disco Mix) - 11:41
1:17:43

CD 2

1 Gary Byrd & The G.B. Experience - The Crown (Vocal) - 10:41
2 Commodores - Too Hot Ta Trot (Album Version) - 5:41
3 Brick - Dazz (12" Disoc Version) - 5:38
4 The Whispers - And The Beat Goes On (12 Inch Disco Single) - 7:36
5 Bootsy's Rubber Band - Body Slam (12" Mix) - 6:24
6 The Isley Brothers - It's A Disco Night (Parts 1 & 2) (Special Disco Version) - 8:57
7 The Bang Gang - Street Music (12" Version) - 4:59
8 Luther Vandross - I Wanted Your Love (Album Version) - 5:39
9 The Jacksons - Body (Extended Version) - 5:55
10 Montana - A Dance Fantasy (Album Version) - 16:00
1:17:30

CD 3

1 Ian Dury - Reasons To Be Cheerful (Part 3) - 5:00
2 Lisa Marie With Malcolm Mclaren & The Bootzilla Orchestra - Something's Jumpin' In You Shirt (Walk The Body Mix) - 7:40
3 Bomb The Bass - Beat Dis (Extended Dis) - 5:59
4 Gino Soccio - The Visitors (Vocal) - 6:46
5 Valerie Dore - The Night (Ben Liebrand Remix) - 5:36
6 John Ferrara - Love Attack (Short Version) - 5:49
7 Tapps - My Forbidden Lover (12" Disco Mix) - 7:35
8 Kashif - Stone Love (Long Version) - 5:27
9 Pia Zadorra - Dance Out Of My Head (Ben Liebrand Remix) - 6:00
10 Barrabas - On The Road Again (Long Version) - 5:58
11 Tantra - Hills Of Katmandu (Album Version) - 16:18
1:18:08

CD 4

1 Sister Sledge - Lost In Music (Nile Rogers & Bernard Edwards 1984 Remix) - 6:37
2 Will Downing - A Love Supreme (Extended Vocal Remix) - 6:52
3 Caron Wheeler - Living In The Light (Brighton Bass Mix) - 8:53
4 George Benson - Give Me The Night (Long Version) - 5:03
5 Jocelyn Brown - Somebody Else's Guy Remix) - 8:21
6 Kool & The Gang - Ladies Night (Ben Liebrand Swingbeat Remix) - 6:54
7 Sharon Redd - In The Name Of Love (Special U.S. Remix) - 7:02
8 Planet Patrol - Play At Your Own Risk (Vocal) - 7:52
9 Syreeta - Can't Shake Your Love (12" Version) - 7:11
10 Weeks & Company - Rock Your World (Joho, Joh) (Long Version) - 8:06
11 Cheryl Lynn - Got To Be Real (12" Disco Mix) - 5:09
1:18:00

CD 5

1 Visage - Fade To Grey (Dance Mix) - 6:42
2 Love De Luxe - Here Comes That Sound Again (Part 1 & Part 2) - 9:00
3 Rinder And Lewis - Willy And The Handclap Jive (Album Version) - 7:58
4 Coffee - Casanova (Long Version) - 6:08
5 Peter Brown - Dance With Me (12"Single) - 5:15
6 Musique - In The Bush (Special Disco Remix) - 7:40
7 Lemon - A-Freak-A (Disco Version) - 7:35
8 Time Bandits - Endless Road (Ben Liebrand 12" Remix) - 6:36
9 Salt-N-Pepa - Expression (Ben Liebrand Boomin' 12" Remix) - 6:20
10 Liza Minelli - Losing My Mind (Extended Remix) - 6:59
11 The Meteors - Cha No Yu (Me Tarzan, You Jane) (12" Jungle Mix) - 7:37
1:17:50

CD 6

1 Diana Ross - Love Hangover (Long Version) - 7:51
2 Barry White - I'm Gonna Love You Just A Little Bit More Babe (Original Album Version) - 7:09
3 Hi-Gloss - You'll Never Know (12"Version) - 5:26
4 Maze Ft. Frankie Beverly - Joy And Pain (Edited Version) - 7:12
5 Mac Band - Roses Are Red (12" Version) - 9:30
6 Slave - Slide (Album Version) - 6:50
7 Midnight Star - Midas Touch (Extended Dance Mix) - 6:36
8 Jackson Sisters - I Believe In Miracles (Extended Mix) - 4:51
9 Mtume - Juicy Fruit (Album Version) - 5:54
10 The Salsoul Orchestra - Nice 'N' Naasty (Disco Mix 12") - 5:27
11 Loleatta Holloway - Hit And Run (Disco Mix) - 11:00
GRAND 12 INCHES 11
Additional info will be added a.s.a.p.

CD 1

1 Alexander O'neal - Criticize (Remix) - 7:02
2 Shalamar - There It Is (Extended Verison) - 6:18
3 The Brothers Johnson - Ain't We Funkin' Now (Album Version) - 5:37
4 Kleeer - Seeekret (Album Version) - 6:13
5 People's Choice - Do It Anyway You Wanna (Alternate Version) - 5:35
6 Rufus Ft. Chaka Kahn - Do You Love What You Feel (Special Us Disco Mix) - 5:58
7 Tavares - It Only Takes A Minute Girl (Ben Liebrand Extended Remix) - 7:22
8 The O'jays - I Love Music (Extended Version) - 9:47
9 Zapp - It Doesn't Really Matter (Extended Version) - 5:16
10 Donna Summer - Macarthur Park Suite - 0:17:47
total 1:16:55

CD 2

1 Midnight Star - Freak-A-Zoid ('87 Remix By Timmy Regisford) - 8:30
2 Rochelle - My Magic Man (Magic Mix) - 5:45
3 Deniece Williams - Let's Hear It For The Boy (Extended) - 6:01
4 Narada Michael Walden - Divine Emotions (Shep Pettibone Remix) - 8:59
5 Rene & Angela - Save Your Love (For #1) (Club Mix) - 5:25
6 The Deele - Street Beat (Album Version) - 7:55
7 Gladys Knight And The Pips - Save The Overtime (For Me) (12 Inch Mix) - 6:40
8 The Whispers - I Can Make It Better (12" Maxi Single) - 7:15
9 Woods Empire - Sweet Delight (Special Version) - 6:54
10 Slave - Stellar Fungk (Album Version) - 8:43
total 1:12:07

CD 3

1 Ray Parker Jr. - Ghostbusters (Extended Version) - 6:07
2 NV (Darryl Payne) - It's Alright (Extended Version) - 7:05
3 Billy Ocean - Get Outta My Dreams, Get Into My Car (Extended Version) - 9:00
4 Coldcut Ft. Lisa Stansfield - People Hold On (12 Inch Version) - 9:28
5 Esavu - Sia Siou (Breaking Up) (Original Mix) - 6:31
6 Forrest - Rock The Boat (High Dynamic 12 Inch Remix) - 8:48
7 Malcolm Mclaren - Deep In Vogue (Banjie Realness) - 9:04
8 Hernandez - All My Love (The Ben Liebrand Mix) - 6:14
9 Eddie Murphy - Party All The Time (Album Version) - 5:19
10 Wally Badarou - Chief Inspector (Album Version) - 5:48
total 1:13:24

CD 4

1 Tina Turner - Two People (The Ben Liebrand Mix) - 7:53
2 Chicago - Street Player (12 Inch Maxi Single) - 8:47
3 Al Jarreau - Roof Garden (Album Version) - 6:20
4 Freur - Doot Doot (Extended Version) - 5:58
5 Level 42 - It's Over (The Ben Liebrand Mix) - 6:05
6 Soul Ii Soul - Keep On Movin' (Club Mix) - 5:49
7 The Crusaders - Street Life (Full Length Album Version) - 0:11:19
8 Windjammer - Tossing And Turning (Remix) - 6:42
9 Harold Melvin & The Blue Notes - Don't Leave Me This Way (Extended Version) - 0:11:08
10 Dexter Wansel - Life On Mars (Album Version) - 5:49
total 1:15:50

GRAND 12 INCHES 12
Additional info will be added a.s.a.p.

CD1

1 Herb Alpert - Rotation (12" Version) 6:53
2 Change - Change Of Heart (Special Extended Mix) 8:29
3 Dynasty - Satisfied (Album Version) 7:09
4 Chic - I Want Your Love (Remix)6:50
5 Brainstorm - Wake Up & Be Somebody (Album Version) 6:24
6 Shalamar - Take That To The Bank (Album Version) 6:14
7 Bunny Sigler - Let Me Party With You (Long Version) 0:12:23
8 Phyllis Hyman - You Know How To Love Me (Album Version) 7:26
9 Isley Brothers - Fight The Power (Part 1 & 2) 5:18
10 Marlena Shaw - Love Dancin' (Special Disco Version) 7:56

CD2

1 Donna Summer - Love Is In Control (Finger On The Trigger) (Dance Remix) 7:03
2 Mouzon's Electric Band - Everybody Get Down (Special Version) 7:16
3 Chaka Khan - I'm Every Woman (Remix ) 8:29
4 Loose Ends - Mr. Bachelor (Extended Remix Version) 7:21
5 James Brown - Living In America (R&B Dance Version) 6:32
6 Brooklyn Express - (Spank) Sixty Nine (12 Inch Disco Mix) 9:09
7 Luther Vandross - Never Too Much (Special Extended Version) 5:41
8 The Ritchie Family - Give Me A Break (Album Version) 6:28
9 Tom Browne - Funkin' For Jamaica (1991 Extended Remix) 5:52
10 The Weather Girls - It's Raining Men (Extended) 5:26

CD3

1 Herb Alpert - Beyond (12" Version) 5:58
2 Bandolero - Paris Latino (Hot Paris Latino Us Remix) 6:30
3 Chaz Jankel - Number One (12 Inch Version) 7:18
4 Kat Mandu - I Wanna Dance (Album Version) 6:34
5 Time Bandits - I'm Only Shooting Love (12 Inch Maxi Single) 6:33
6 Captain Rapp - Bad Times (I Can't Stand It) (Orginal 12" Mix) 6:56
7 Paul Sharada - Florida (Move Your Feet) (Original 12" Version) 7:30
8 The Pointer Sisters - Jump (For My Love) (Long Version) 6:27
9 Babyface - It's No Crime (Ij Extended Mix) 7:46
10 Trans-X - Living On Video (Original Album Version) 5:56

CD4

1 Johnny "Guitar" Watson - A Real Mother For Ya (Album Version) 5:07
2 Deja - You And Me Tonight (12" Mix) 8:23
3 Nicole Mccloud & Timmy Thomas - New York Eyes (Remix) 6:01
4 The Salsoul Orchestra - Ooh, I Love It (Love Break Version) 7:48
5 Alexander O'neal - All True Man (Classic Club Mix) 7:10
6 Patrice Rushen - Watch Out (Extended Remix) 6:23
7 Gregory Abbott - Shake You Down (Extended Club Mix) 5:58
8 MFSB Ft. The Three Degrees - Love Is The Message (Special Long Version) 0:11:33
9 Maze Ft. Frankie Beverly - Back In Stride (Album Version) 7:06
10 The Intruders - I'll Always Love My Mama (12" Promo Version) 9:49

GRAND 12 INCHES 13



CD1
1 Chic - Dance Dance Dance (Yowsah Yowsah, Yowsah) (12" Mix)
2 Steve Arrington - Feel So Real (Vocal / Extended Version)
3 Ashford & Simpson - Found A Cure (12" Disco Mix)
4 The Brooklyn, Bronx And Queen Band - Starlette (Album Version)
5 Rockers Revenge Ft. Donnie Calvin - Walkin' On Sunshine (Special Disco Mix)
6 Musique - Keep On Jumpin' (Remix)
7 D-Train - Keep On (Long Vocal)
8 France Joli - Come To Me (Original Album Version)
9 Zinc - Street Level (Album Version)
10 Voyage - Souvenirs (12"Mix)

CD 2

1 Hot Chocolate - Every 1's A Winner (Ben Liebrand Extended Groove Mix)
2 Joe Tex - Ain't Gonna Bump No More (With No Big Fat Woman) (Special Disco Version)
3 Gwen Mccrae - Keep The Fire Burning (Original 12 Inch Version)
4 Donald Byrd And The 125Th Street, N.Y.C. - Love Has Come Around (Album Version)
5 Cherelle - I Didn't Mean To Turn You On (Special Version)
6 Larry Wu - Let Me Show You (Long Vocal Version)
7 One Way - Let's Talk (Dance Mix)
8 Mai Tai - Female Intuition (Intuition Mix)
9 J.R. Funk & The Love Machine - Make Your Body Move (Original Album Version)
10 Nighthawk - Eye Of The Tiger (Long Vocal Version)
11 Herbie Hancock - Lite Me Up (Disco Mix)

CD 3

1 Patrick Cowley Ft. Sylvester - Do Ya Wanna Funk (Original 12 Inch Mix)
2 Lime - Your Love (Remix)
3 Gino Soccio - Try It Out (Vocal - Long Version)
4 Who's Who - Palace Palace (Album Version)
5 Klein & Mbo - Dirty Talk (European Connection)
6 Martin Circus - Ite Missa Est (Album Version)
7 The Ring - Savage Lover (Long Version - Vocal)
8 Space - Magic Fly (Album Version)
9 Paul Hardcastle - Don't Waste My Time (New Extended Version)
10 Cori Josias - Taking It Straight (Original Version)
11 Cori Josias - Taking It Straight (Dub Version)

CD 4

1 Sister Sledge - We Are Family (Album Version)
2 Barry White - Never, Never Gonna Give Ya Up (Album Version)
3 Change - The Glow Of Love (Long Version)
4 Sos Band - The Finest (Special Version)
5 Delegation - Where Is The Love (We Used To Know) (12"Version)
6 Phil Fearon & Galaxy - What Do I Do (Dance Version)
7 Carly Simon - Why (12" Mix)
8 Bobby Caldwell - What You Won't Do For Love (Long Version)
9 Sueno Latino - Sueno Latino (Paradise Edition)
GRAND 12 INCHES 14



CD1

1 Tavares - Don't Take Away The Music (Album Version) 6:16
2 Shalamar - The Second Time Around (12 Inch Disco Version) 7:07
3 Jermaine Jackson - Let's Get Serious (Album Version) 8:00
4 Diana Ross - The Boss (12"Remix) 7:24
5 The Four Tops - Loco In Acapulco (Ph Full Balance Mix) 9:08
6 Loose Ends - Emergency (Dial 999) (Extended Remix) 6:45
7 Leroy Burgess - Stranger (Shep Pettibone Mix) 6:22
8 Voyage - From East To West (12" Mix) 7:12
9 Chocolate Milk - Who's Getting It Now (12" Version) 6:41
10 Ashford & Simpson - Bourgie Bourgie (Instrumental) 6:07

CD2

1 Kurtis Blow - The Breaks (Vocal) 7:48
2 Crown Heights Affair - Dancin (Special Disco Mix) 7:47
3 Sister Sledge - All American Girls (Album Version) 5:04
4 Narada Michael Walden - I Shoulda Loved Ya (Maxi-Single) 6:31
5 Beggar & Co - (Somebody) Help Me Out (12"Version) 7:21
6 Cher - Take Me Home (12" Version) 7:32
7 Steven & Sterling - Can I Be With You Tonight (12"Remix) 5:47
8 The O'jays- Love Train (Extended Version) 6:15
9 Heatwave - Lettin' It Loose (12 Inch Version) 6:12
10 Aquarian Dream - You're A Star (Album Version) 5:31

CD3

1 Earth Wind + Fire - Magnetic (Extended Dance Remix)0:06:21
2 Propaganda - Duel (Blank & Jones So80S Reconstruction) 12:20
3 Murray Head - One Night In Bangkok (Long Version) 5:40
4 Funk Deluxe - This Time (12" Remix) 6:12
5 Camouflage - The Great Commandment (Original Us 12" Mix/Remastered Version) 6:13
6 Lisa Lisa & Cult Jam With Full Force - Wonder If I Take You Home (Extended Version) 6:46
7 Club Nouveau - Lean On Me (Remix) 7:43
8 Nightlife Unlimited - Dance, Freak And Boogie (Special 12"Disco Mix) 7:40
9 Mothers Finest - Dis Go Dis Way, Dis Go Dat Way (12"Version) 6:52
10 Pieces Of A Dream - Mt Airy Groove (Instrumental Version) 5:57

CD4

1 Chic - My Forbidden Lover (12"Version) 6:23
2 Jesse Green - Nice And Slow (Extended Version) 6:26
3 S.O.S Band - Just Be Good To Me (Album Version) 9:12
4 Donna Summer - Walk Away (12" Version) 8:31
5 Nu Shooz - I Can't Wait (Long Dutch Remix) 6:15
6 Cherelle With Alexander O'Neal - Saturday Love (Extended Version) 8:43
7 Stephanie Mills - What Cha Gonna Do With My Lovin' (12"Version) 8:03
8 Serge Ponsar - Out In The Night (Maxi Single) 6:56
9 MFSB Ft The Three Degrees - T.S.O.P (The Sound Of Philadelphia) (Special 12" Version) 5:44
10 Odyssey - Native New Yorker (12"Disco Mix) 6:18
Ben Liebrand : "These are the roots of my career in music".
These tracks have determined the path to follow and many of them where revolutionary and truly progressive at the time they where originally released. I have taken the greatest care to come up with the best possible masters, sometimes comparing up to 5 different versions to find out which one sounded the best and most pure. And sometimes even baking the analog master tapes to make them playable again. The heat evaporates the moisture in the coating of the tape. The otherwise moist backing will clog up all parts of the tape recorder the tape touches, leaving a dark glue like substance grinding everything to a halt. After the backing process, the tape becomes playable again and the transfer to digital is performed.
Some tracks feature a combination of vocal and dub version just as I used to perform that combination in a live DJ-set. Such a combination features the best parts from the vocal and dub version, capturing the complete feel of what that track meant to me.
Enjoy!
Ben Liebrand
The info provided on this page is copyright 2010 Ben Liebrand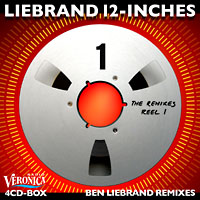 LIEBRAND 12 INCHES

More info...


So what is missing:

Obviously, Kraftwerk, the absolute fathers of all sequencer based dance music.
I finally managed to contact them, but they just do not license anything to anyone, so unfortunately no rare Kraftwerk mixes on Grand 12 Inches


Bobby Orlando was missing on part 1, 2 and 3......but.....
I managed to incorporate no less than 5 Bobby Orlando productions on Grand 12 inches part 4

Telex : Moskow Diskow. Was missing from Grand 12 inches 1,
I succeeded in getting it! It is now available on Grand 12 Inches 2 !!!

Harry Thumann : Underwater. Was missing from Grand 12 inches 1
I found Baby Records, and it is now available on Grand 12 Inches 2 !!!

The tracks by Poussez and the Players Association....
Got them and are now available on part 6 in absolute pristine master quality!

Even with part 10 finished, tracks still not available for licensing included : George Duke - Broken Glass and Herb Alpert's 'Rotation' and the track 'Beyond'.
Finally got Herb Alpert's 'Rotation' and the track 'Beyond'

NV - It's All right
Finally got it on edition 11

The info provided on this page is copyright 2015 Ben Liebrand
Transferring from Vinyl

Only when no master can be found at all (including having contacted the original artists in many occasions) I have to revert to Vinyl, and only do so if a mint copy is at hand. So....

Man am I happy I always spun my records using the Stanton 681 EEE's, instead of abusing them with the surface grating 500AL's.

So... Transfer was done using a Denon 304 Moving coil cartridge, amplified by a Studer Phone Pre-amp to +4dB balanced line signal.
The signal was then fed into the AD converters of a Tascam DA30 and recorded directly to 44.1 kHz 16 bit.
Yes, A higher bit rate is better, but only if it stays at that bit rate. Down-sampling to the CD standard introduces more unwanted side effects than simply recording it at the correct sample and bit rate in the first place.

All clicks where removed by hand. instead of editing them out , which removes short spaces of time, they were removed by means of interpolation, thus keeping the correct timing.

Fade-out's were cleaned up, intros where inspected at sample-zoomed view. Distorted section were repaired by interchanging from identical snippets elsewhere in the song and all was done to ensure that you have the best possible audio experience in lack of the preferred analog tape master.